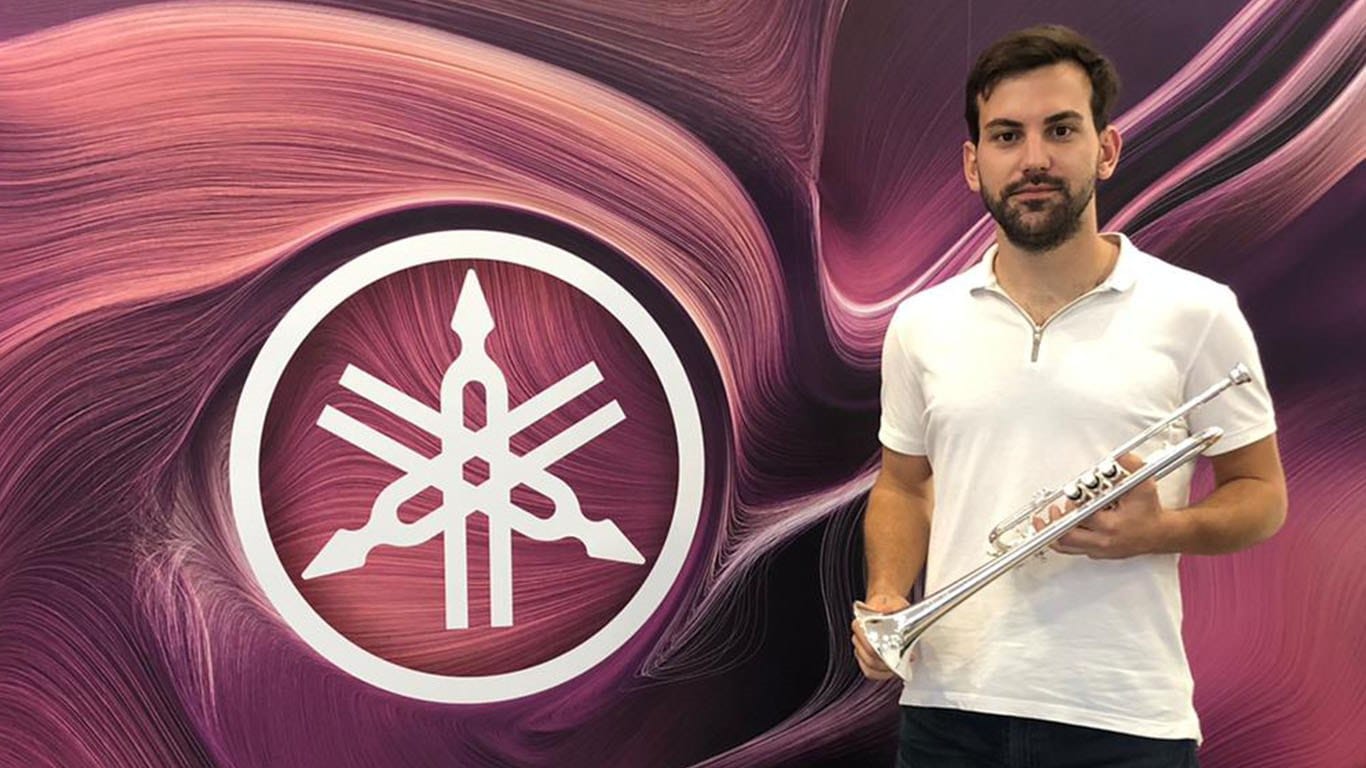 With a network of Artist Centres and Ateliers around the world, Yamaha works with leading players to support their performances and develop instrument designs and new ideas for the benefit of all musicians. Yamaha Artists share with us a passion for inspiring the next generation of players, and a belief that everybody should be encouraged to nurture their talent, connect with others and tell their stories through music.
Get to know Yamaha artist and trumpet player Adrián Martinez
How does your instrument improve your daily life as a musician? 
When I play my new trumpet every day in the orchestra, I feel more confident and comfortable. I also notice a vast improvement in intonation — I no longer need to adjust as many notes as before.
What are the most outstanding features of your instrument?
Above all, I'd say the high-quality materials and build of the instrument. I also love having the reverse leadpipe and the feeling of fluidity and less air resistance that it provides.
When did you first come across Yamaha?
My partnership with Yamaha began in January 2021.
Which musician has influenced you the most in your music career? Are you still following any of their advice?
Maurice André and great orchestral players like Adolph Herseth, Phil Smith, Michael Sachs and David Bilger, among others, have indirectly influenced my career. They are some of the trumpeters I've always listened to, and still do. I'm always trying to learn from them, even if it's just by listening to them play.
But if we're talking about direct influence, I couldn't pick out just one person. I always tell people that the best way to learn is by meeting as many people as possible and learning from every one of them: their methods, ideas, routines, and so on. That said, I do have to mention Vicente Campos and Miguel Ángel Navarro, my tutors at the conservatoire, and Rubén Marqués and Javier Barberá, trumpet soloists at the Palau de les Arts center (Valencia, Spain) and the Orchestra of Valencia, respectively.
The tutors Charlie Geyer, Barbara Butler and Paul Merkelo, whom I had the pleasure of meeting during the two-month Music Academy of the West festival in California, also played a key role in my formative years as a musician.
What advice would you give to a musician who is just starting out in their career?
The advice I would give is: Enjoy the journey, try to learn from every experience and from all the peers and tutors you meet, and keep your passion and drive alive — don't give up until you achieve your goals.