Biography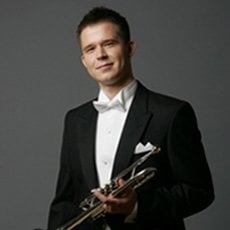 Aleš Klančar (born 1981) started playing the trumpet at age of 11 at the music school in his hometown Postojna, Slovenia. He has been performing frequently as a soloist and in chamber groups from the very beginning. In 1996 and 1999 he participated in the Slovenian National competition for young musicians (TEMSIG), taking the 1st prize with honours both times. He has also been awarded the Swedish Royal Academy scholarship and received the Skerjanc award for great achievements in the field of music in 2000.
After completing the studies at the Secondary School of Music in Ljubljana, Slovenia, he has continued his education at the Academy of Music in Malmö, Sweden with the world renowned soloist and professor Håkan Hardenberger, taking a Master degree in 2005. In addition, he has been frequently attending masterclasses and taking lessons with other established professors such as Bo Nilsson, Stephen Burns, Matthias Höfs, Rex Martin, Gabriele Cassone...
He has been regularly playing with orchestras like the Gothenburg Symphony Orchestra, Royal Stockholm Philharmonic, Malmö Symphony Orchestra, Royal Danish Opera, Copenhagen Philharmonic, Aalborg Symphony Orchestra, Slovenian Philharmonic and Turku Symphony Orchestra. In the latter he held the solo trumpet position between January and June 2007. He is a member of the brass quintet Busina Brass and performs all over Europe with ensembles for contemporary classical music like Insomnio (Utrecht, the Netherlands), Musikfabrik (Köln, Germany), Remix Ensemble (Porto, Portugal) and Ensemble Ars Nova (Malmö, Sweden). Besides that he often appears as a soloist playing with Malmö Symphony Orchestra (Sandström's Trumpet Concerto no. 2), the WDR Radio Orchestra under the baton of Michail Jurowsky (J. Haydn's Trumpet Concerto) at the gala concert of the Rheingau Musik Festival, the Slovenian philharmonic (C. Chaynes Trumpet concerto) and others.
Lately he has been devoting his attention to teaching at music seminars (OrkesterkamP, daily courses) and participating in the jury panels of music competitions (Svirel).
Aleš Klančar is a Yamaha Artist and plays YTR-9335CHS and YTR-9445CHS.