Yamaha and Billy Sheehan Celebrate 30th Anniversary of Attitude Series
Yamaha and Billy Sheehan Celebrate 30th Anniversary of Attitude Series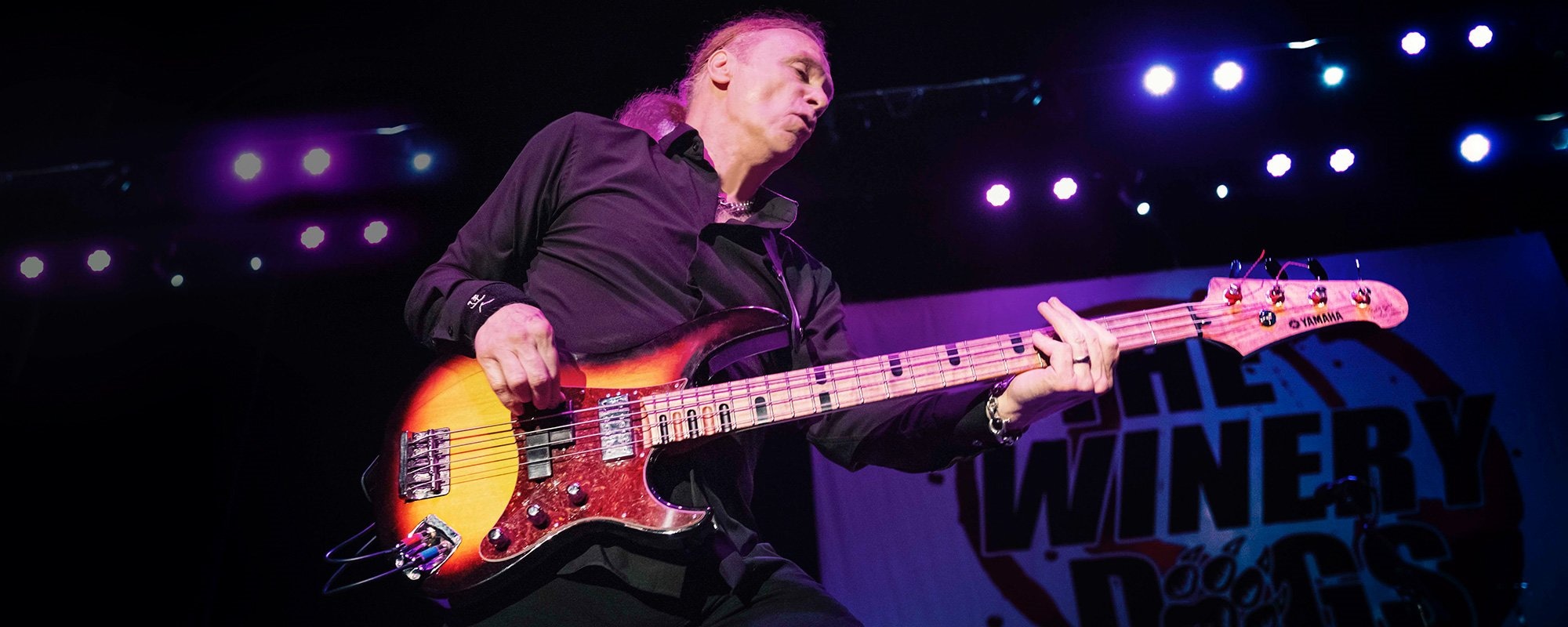 2020 marks two related anniversaries for Yamaha Guitars: the 30th anniversary of Yamaha Guitar Development - our Los Angeles custom shop - and the 30th anniversary of the Attitude series. The signature bass of the singular Billy Sheehan, the Attitude was one of the first production instruments developed by YGD.
Yamaha and Billy Sheehan Celebrate 30th Anniversary of Attitude Series
In appreciation of this milestone, Yamaha is releasing the Attitude 30th. Limited to thirty pieces in recognition of thirty years of Attitude, this anniversary model pays tribute to The Wife, Billy's heavily customized original bass which laid the groundwork for the Attitude series and the decades of trailblazing music it inspired.
The Wife's nickname comes from a period in Sheehan's early career in which he and the bass were effectively inseparable. "Thousands of shows were played on that bass, so it became a real part of me," he explains. "It was with me constantly. People would knock on my door, and I'd open the door with the thing on, and they'd say 'Don't you ever put that thing down?'" His response: "No, I don't, actually – I'm always playing it!'"
While Billy is most closely associated with the Attitude series, his history with Yamaha goes back even further. "There was a company in Buffalo that sold pro audio gear," he recalls, "but they also had a Yamaha BB bass, and it was gorgeous. It was perfect. Quality control on it was spectacular. That stayed with me, the quality of these Yamaha instruments. In 1984, Yamaha contacted me and said, 'We'd be interested in making a bass for you'."
The first basses were BB2000 and BB3000 models, customized for Billy to use on tours with Talas and David Lee Roth, and he also used RBX basses in the late 1980s. The Attitude, however, represented a bass designed to Billy's exact specifications in every detail – including multiple refinements to the customizations he first made to The Wife.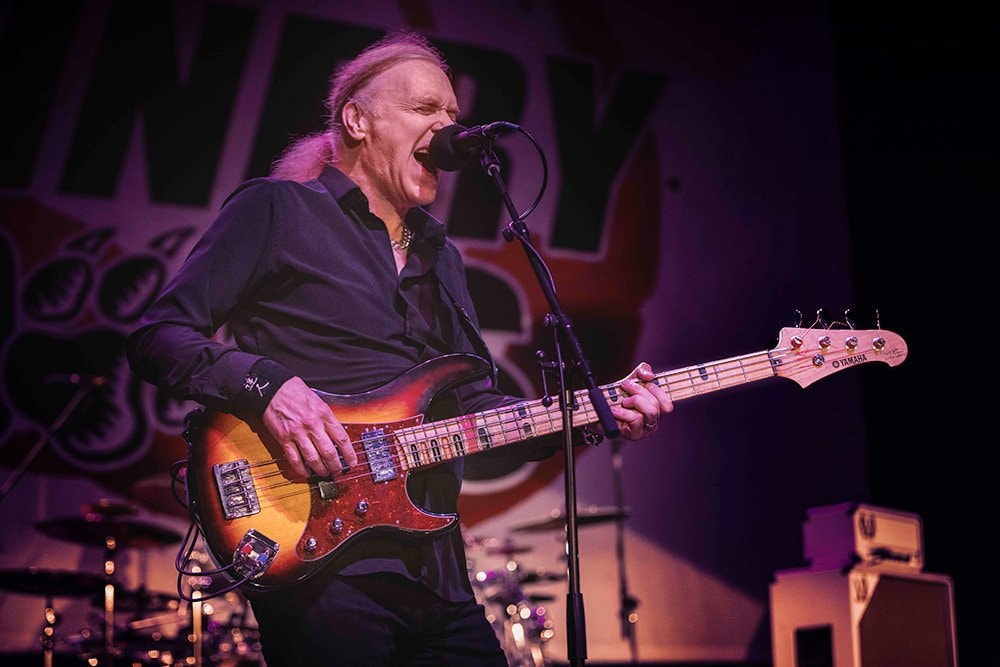 One such feature is the dual outputs. "It was the beginning of the woofer/tweeter idea," Billy recounts. "It gave me a clean, articulate high end without low end muddying it up, because I got that low from another pickup, and another channel, and eventually another amp." Now a signature element of the Attitude series, its origins on The Wife were more pragmatic: "I didn't know how to wire both pickups to one output. I just put the second output there and used two cables into two channels."
On his original customizations, Billy remembers: "Mine were done with a screwdriver as a chisel. I didn't measure. I didn't know what I was doing. Through the years, all the innovations that I did on my original bass have landed in a quality version, done the correct way by Yamaha and their craftsmen."
The series has evolved from the original Attitude to the Attitude II, released in 1995, and the Attitude Limited III, released in 2011. Attitude 30th contains all of these refinements, but with cosmetics inspired by The Wife, including the three-color sunburst, tortoiseshell pickguard, and custom covered version of the DiMarzio Will Power neck pickup. Upon the first production sample, Billy remarked "It's amazing to sit here and hold on to this thing after all I've been through with the original bass. Thirty years with Yamaha and all the incredible memories, and records, and everything that I've made with the Attitude bass. And here it is, gone full circle back to the tribute to The Wife." On this newest addition to the Attitude series, Billy's verdict is: "This is as good as it gets. It's just a flawless work of art."
The Attitude 30th also includes a Certificate of Authenticity signed and numbered by Billy, and an autographed second pickguard that can be mounted on the bass or displayed separately. Each bass also comes with a copy of the Helix Native plugin from Line 6. Not only is Billy also a Line 6 artist, but some of his personal equipment has been modeled in Helix. By using Helix Native in their preferred digital audio workstation, customers can easily explore the creative possibilities of using the dual outputs on Attitude 30th into separate virtual amp, effect, and speaker cabinet models – offering Billy's fans a unique opportunity to get even closer to his iconic tones.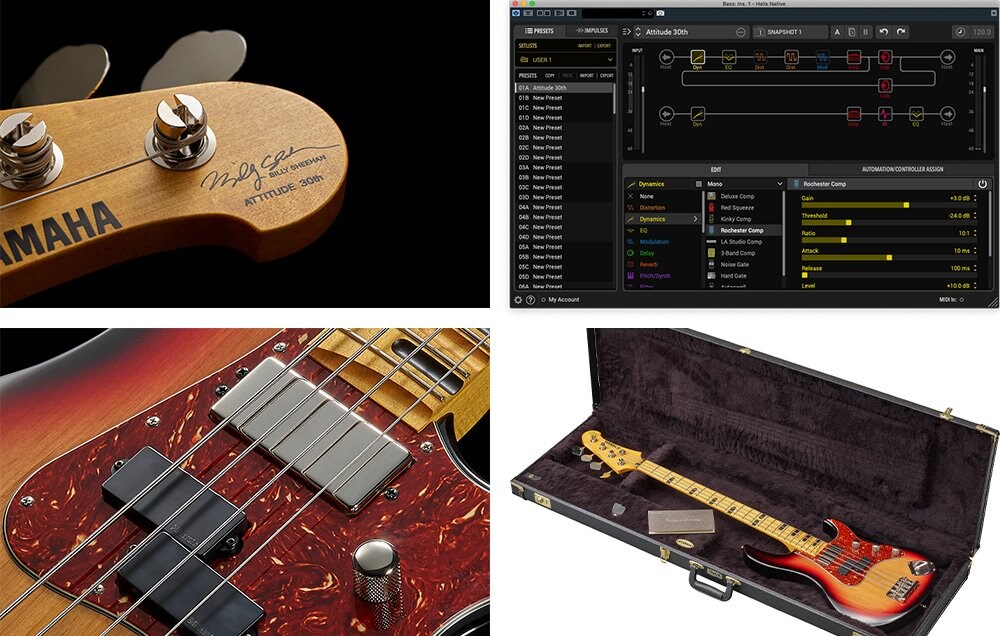 Like The Wife before it, the Attitude name has a personal connection to the artist. Ken Dapron is the Director of Yamaha Artist Services Marketing at YGD and has worked with Billy throughout his entire relationship with Yamaha. Ken recalls: "In one of the discussions with Billy, we were talking about his attitude – his actual opinionated attitude on what he needed. Jokingly, that just came up – and stuck."
Having worked together on the signature series for three decades, the name has a new dimension for Ken. "We so appreciate Billy's relentless dedication to his friends, his family, his fans, and his determination to never give up," he concludes, reflecting on decades of collaboration which are celebrated with the Attitude 30th. "That's his passion. That's his attitude."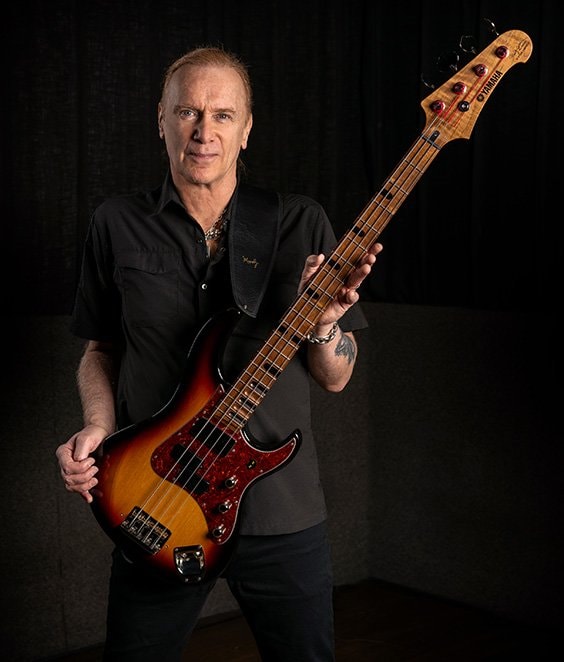 Yamaha and Billy Sheehan Celebrate 30th Anniversary of Attitude Series