Elbtonal Percussion becomes Yamaha Artist
Elbtonal Percussion becomes Yamaha Artist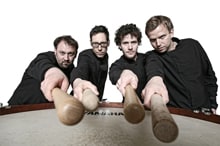 For two decades, Elbtonal Percussion has been one of the world's leading percussion ensembles. Having toured Europe, Asia, Central and South America, they have also released 7 highly acclaimed CDs and DVDs.
In addition to their touring and recording work, they are also very active in a number of other projects and have worked on film soundtracks for movies such as "The Baader-Meinhof Complex" (U.Edel / B.Eichinger), "Cherry Blossom Hanami" (D.Dörrie) and have also featured as guest musicians for choirs, bands and orchestras, and have also been involved in a number of theatre and dance productions.
Elbtonal Percussion set themselves very high musical standards and they make sure that this high artistic level is also reflected in their choice of instruments.
The unique, perfectly balanced sound of Yamaha's marimbas and vibraphones, the easy handling and transportability of Yamaha instruments when touring and the wide range of high quality orchestral percussion instruments available, was a crucial part in Yamaha being Elbtonal Percussion's choice of instruments.
In addition to this, another key aspect of Elbtonal Percussion's decision was having a partner that could meet the demands of a group which tours regularly throughout the world. This is where Yamaha plays a major role and has proved from the beginning, both at home and abroad, to be a flexible and reliable partner.
Andrej Kauffmann (Elbtonal Percussion):
"We are very pleased to officially become Yamaha Artists and to reaffirm the confidence we have in Yamaha instruments. Supporting workshops and other projects is only one aspect of this, the other is the excellent technical support from Yamaha Atelier Hamburg. "
Yamaha :
"We have known the members of Elbtonal Percussion for a very long time and we are very pleased to be able to official welcome them to the Yamaha Artist family. We are excited to be working together with these great musicians and their creative projects."
Elbtonal Percussion becomes Yamaha Artist