Biography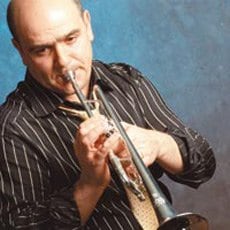 Vicente Campos starts his studies at the School of Music from the Musical Society of Montserrat (Valencia) continuing later at the Superior Music Conservatory of Valencia being their teacher Vicente Prats.
He has got the Special Award of Honor of superior degree, specializing in trumpet, 1st. Young Musicians Award and 1st. Award Mariano Puig.
Vicente Campos has accomplished the Master of Musical Aesthetics and Creativity from the University of Valencia. Recently he has got the Diploma of Advanced Studies (DEA) and currently he makes his PhD at the University of Valencia.
He has performed as soloist with major orchestras and groups in the Spanish musical scene and he has recorded several albums and CDs as a soloist with various chamber groups, including the recording of the "Concerti Accademici" of Francisco José de Castro and the "Collegium instrumentale", with an excellent critical from the Goldberg magazine.
Since 1996 he runs the courses and the music festival of Montserrat (Valencia).