Biography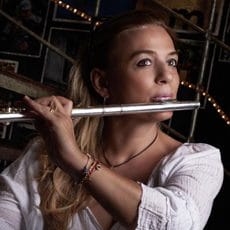 ● She started to study music at the age of seven and in 1980 she won the 1st price in an International competition in Prague.
● In 1983 she graduated from Brno's Music Academy, the class of professor Bozena Ruzickova, with 1st Award, Distinction and Honour medal of the Ministry of Culture of Czechoslovakia.
● In 1985 she took her postgraduate Diploma in Piano, Flute and Chamber music and continued her studies at the Conservatoire de Paris and at the Academy Villecroze next to Christian Larde.
● Recently, she completed her studies of baroque music and traverso flute with Andrea Kroeper at the Academy of Early Music of the University of Masaryk in Brno and took her Diploma in Monody with Eirini Tsirakidou.
● She represented Greece for two continuous years with the Mediterranean Orchestra of Young Musicians.
● As a soloist, she collaborated with the Brno Academy Symphony Orchestra and the Brno Radio Symphony Orchestra, with the Greek Radio Orchestra, as well as many chamber orchestras such as Patras Soloists, Czech Chamber Soloists etc.
● She performed as a soloist in Athens Megaro Music Hall, in Odeon of Herodus Atticus ( Herodion), in ancient theatre of Epidaurus etc.
● In 1992 she was visiting teacher at the Music Academy in Hong Kong, where she was also giving concerts.
● She collaborated with the Kamerata Orchestra in Greece, the Philharmonic Orchestra of Berlin, Pierre Boulais' Orchestra, Capella Istropolitana and with conductors such as Claudio Abado, Kurt Mazure, Michel Tabachnik and Sylvio Gualda etc.
● Being engaged in contemporary music, she collaborated with great composers such as Ianis Xenakis, Claude Bolling, Pierre Boulais, Theodoros Antoniou, Christos Zerbinos etc.
● She has given many recitals in Greece as well as abroad and has repeatedly recorded for Greek and international Televisions and Radio.
● For the past several years she collaborates with well known Czech composer Milos Stedron and recorded 3 CD´s with his compositions.
● She has also collaborated in recordings of 14 CD´s with music of Greek composers (Notis Mavroudis, Loudovikos ton Anogeion, Christos Zerbinos, Panagiotis Margaris, Nikos Xidakis, Nikos Tatsis etc.).
● She is teaching flute, piano and chamber music at the Fakanas Art Music School in Athens.
● Also, she is member of music groups "Apodrasi" and "Duo Arioso" (with guitar player Aristidis Chadzistavrou). She also collaborates with cembalo player Gerasimos Choidas in performances of baroque music.
● Most recently she collaborates with Italian composer, singer and tamburellist Alfio Antico, with whom she is currently recording joint CD.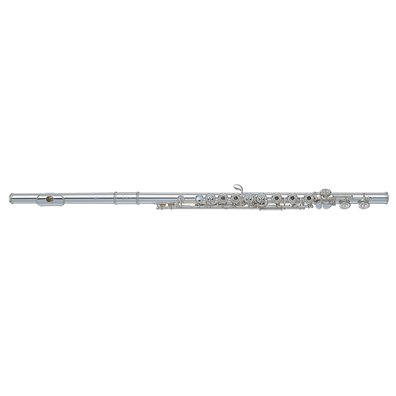 Flautas de plata fabricadas a mano de la serie 800; platos abiertos, sistema alineado, orificios soldados