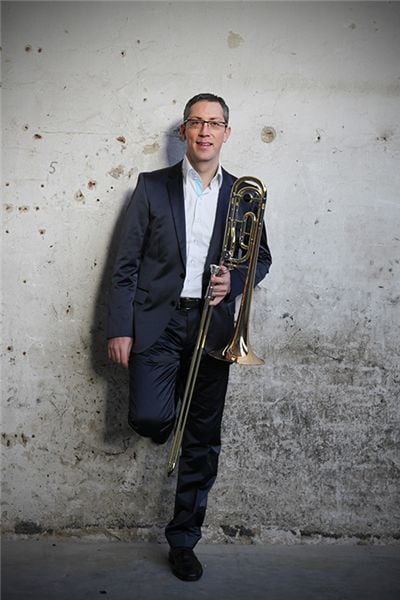 In 1991, he switched to the tenor trombone and in 1993, he started his studies at the Lemmens Institute in Louvain with Michel Tilkin, where he gained the diploma 'Master in Music' summa cum laude
As a free-lance trombone player, he was a member of the Brussels philharmonic orchestra, the Rotterdam philharmonic orchestra and l'Orchestre national de France…
In 1997 he succeeded as solo trombonist with the orchestra of the Royal Opera house Brussels: 'La Monnaie'.
Jan is also co-founder of Belgian Brass, with whom he released various CD projects.
Since December 2001, he has been teaching trombone and literature study at the Antwerp School of Music where he also leads the brass ensemble.
Jan is a popular soloist and has, for example, created the second trombone concert of Johan Evenepoel. As chamber musician, he plays in the brass quintet of la Monnaie, I Solisti del Vento, the Bone Project and Belgian Brass.
His solo-album 'Wandering Spirit' has been released in 2012 and had great reviews in several professional Brass Magazines.
In November 2018, he created a new concerto for trombone, 'Tombeau de Napoleon, composed by Richard Dubugnon, with the orchestra of the Royal Opera House of Brussels 'La Monnaie'
Jan also gave many international Masterclasses in several countries such as Spain, France, Italy, Atlanta, Mexico …