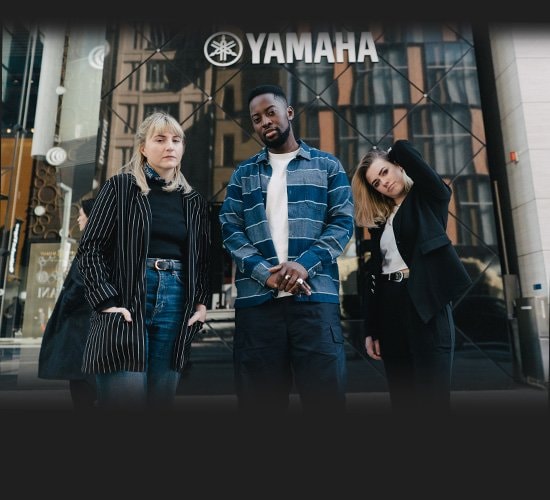 La iniciativa de Yamaha para descubrir nuevos talentos nos presenta artistas emergentes y nueva música.
DOCUMENTAL
Serie documental que muestra el viaje de seis artistas emergentes procedentes de distintas partes de Europa que se reúnen en Barcelona para vivir una experiencia exclusiva de composición musical. Los protagonistas tendrán que trabajar en equipo, crear música y actuar en directo en una villa llena de instrumentos con estudio de grabación.
EPISODE 1: WRITING & COMPOSING
6 upcoming artists who haven't met before, arrive at the House of Talents in Barcelona. They form teams of two and start their mission to create songs in three days, leading up to a final performance of their work in an intimate concert. The first episode captures the beginning of this creative journey, from the artists getting to know each other, to start writing lyrics and composing melodies.
On the second day in the House of Talents, the artists get the chance to experiment with their tracks in the villa's home studio. Producer Jesus supports them with refining song layers and exploring new instruments. Yamaha artist Miki Santamaria pays a visit to support the new talents in their creative process.
EPISODE 3: FINAL PERFORMANCE
On the final day in the House of Talents the artists get ready to perform their individual songs that they have been working on the past days. In an intimate concert they showcase their results in front of each other.
PANELES
Los artistas emergentes de WAY UP se reúnen en diferentes lugares del mundo para hablar de sus experiencias en la industria musical, lo que significa expresarse a través de sus canciones y cómo progresan personalmente con su música.
UK artists JNR Williams and Wyldest from London meet with US artist Maggie Miles from Nashville. At the Yamaha Ginza Hall in Tokyo, the emerging artists share experiences in song-writing and how music empowers them to express their emotions and convey a message.
MUSICA
La playlist de WAY UP incluye una selección de música original de los artistas emergentes presentados en la serie de vídeos WAY UP.
PODCASTS
WAY UP: HOUSE OF TALENTS es un podcast que complementa el documental de Yamaha de tres episodios sobre talento emergente. La presentadora, Parisa Tarjomani, habla con algunos de los artistas invitados a esta experiencia de composición musical exclusiva que tuvo lugar este verano en España. En ella, Yamaha reunió a artistas emergentes procedentes de toda Europa en una villa de Barcelona con estudio de grabación y llena de instrumentos, lo que crea el entorno perfecto para componer música y trabajar en equipo. Los artistas, que no se conocían de antes, se dividieron en parejas. En tres días, escribieron letras, compusieron melodías y grabaron las canciones que tocaron el último día en un concierto íntimo. ¡ESCUCHE EL PODCAST Y SUSCRÍBASE YA!