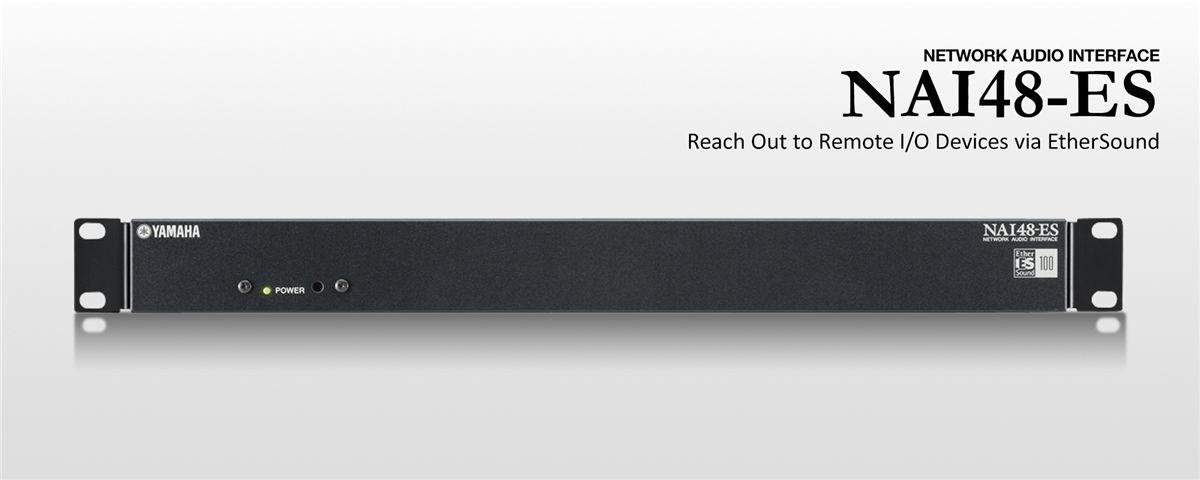 NAI48-ES
Network Audio Interface
Connect Yamaha digital mixing consoles or DME processors to remote head amps or AD/DA converters via EtherSound for analog interfacing wherever needed
The NAI48-ES is a digital audio network interface that uses the EtherSound network protocol. Digital mixing consoles such as the Yamaha PM5D, M7CL, or LS9 can be connected to AD8HR 8-channel microphone preamp/AD converter or DA824 DA converter units via the NIA48-ES for remote analog input or output interfacing on stage or wherever needed. This type of system eliminates noise problems that are unavoidable with conventional analog console plus multi-cable type setups, and dramatically reduces microphone cable length for superior sound quality. Cabling between the console and "stage box" units is also simplified for fast, easy setup.
NAI48-ES
Network Audio Interface
Una interfaz EtherSound y AES/EBU de 48 canales rápida y fácil de configurar y utilizar.
Transfer up to 48 channels of digital audio between console and stage or any other location via a single CAT5e Ethernet cable at sampling rates up to 96 kHz.
Este tipo de sistema elimina los problemas de ruido inevitables con las mesas analógicas convencionales y configuraciones de tipo multicable, y reduce considerablemente la longitud del cable del micrófono para la obtención de una calidad de sonido superior.
Las 48 entradas AES/EBU y las 48 salidas AES/EBU se proporcionan a través de conectores D-sub de 25 patillas.
Designed with Yamaha professional sound gear in mind: minimum setup hassle, trouble-free operation.
An external power supply can be used in addition to the internal power supply for redundant failsafe operation.
Use standard Ethernet hubs and routers to create any network configuration you need.
Los colores y acabados pueden ser diferentes a estos en los productos actuales.