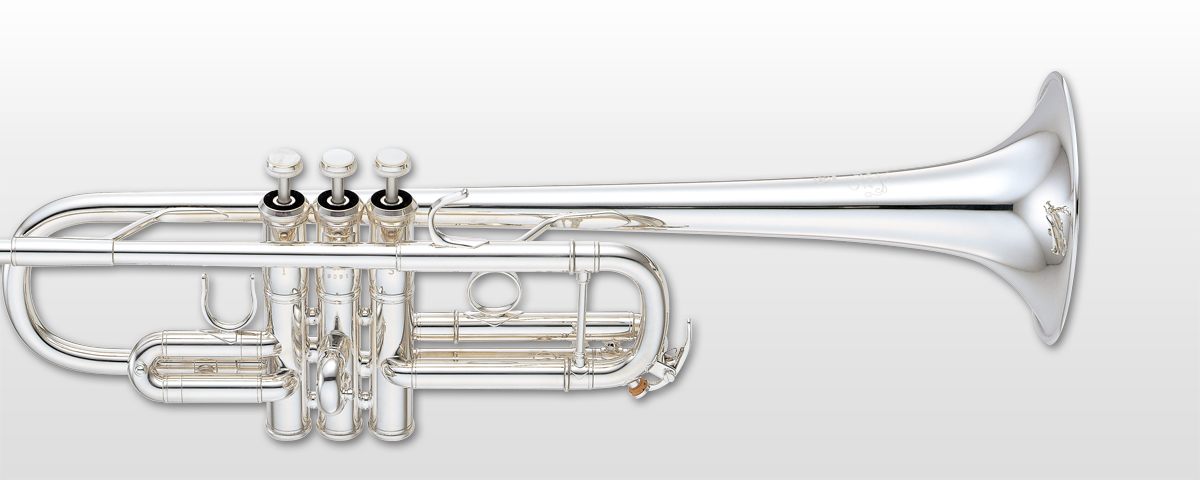 YTR-9445NYS

Descatalogado
El artista que hay detrás de su desarrollo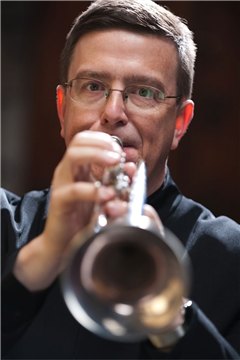 David Bilger
Hailed by the New York Times for his playing of "easy brilliance" and by the Washington Post for his "engaging legato touch," David Bilger has held the position of principal trumpet of The Philadelphia Orchestra since 1995. Prior to joining the Orchestra, he held the same position with the Dallas Symphony.
As a soloist, Mr. Bilger has appeared with The Philadelphia Orchestra, the Dallas Symphony, the Houston Symphony, the Chamber Orchestra of Philadelphia, the Oakland Symphony, the Indianapolis Chamber Orchestra, Philharmonia Virtuosi of New York, and others. His solo appearances with The Philadelphia Orchestra include 2013 performances of Hummel's Trumpet Concerto, a 2008 US Premiere of Herbert Willi's "Eirene" for trumpet and orchestra as well as performances of the Tomasi Trumpet Concerto at Carnegie Hall, and on tour in North and South America in 1998; Haydn's Trumpet Concerto in February 2003; Copland's Quiet City in October 2004; and Bloch's Proclamation in 2006. Mr. Bilger has performed recitals in New York, Washington, D.C., Cleveland, Los Angeles, Philadelphia, and other major American cities.
Mr. Bilger has appeared with the Chamber Music Society of Lincoln Center, with which he recorded Bach's Second Brandenburg Concerto. Other chamber music appearances include Chamber Music Northwest, the New York Trumpet Ensemble, Saint Luke's Chamber Ensemble, as well as guest appearances with the Canadian Brass and the Empire Brass. He released a recording of new electro-acoustic music for trumpet and synthesizers with composer Meg Bowles.
Mr. Bilger is currently on the music faculties The Curtis Institute of Music and Temple University, and was a former faculty member of the Hugh Hodgson School of Music at the University of Georgia. He has performed master classes at dozens of institutions, including the Juilliard School of Music, Indiana University, the University of Michigan, the Manhattan School of Music, and the Peabody Conservatory. He has also taught at the Pacific Music Festival and the National Orchestral Institute most recently at the Aspen Music Festival and School.
Mr. Bilger holds a Master of Music degree from the Juilliard School of Music and a Bachelor of Music degree from the University of Illinois.
Diseño de la campana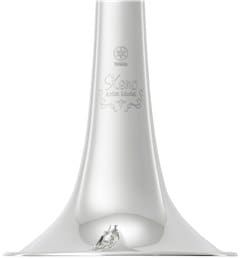 The area where the bell meets the valves has been redesigned for optimum playing resistance and brilliant, distinctive tone. High note playability has been significantly improves as well.
The bell has a bottom seam that results in ideal balance with the new thinner valve casing and pistons.
Nuevo sistema de gatillo de afinación

Con la utilización de un tudel original Malone Pipe™ (MB1) y un receptor de boquilla menos profundo, hemos conseguido mejorar el timbre y la respuesta a la vez que hemos logrado una resistencia al aire ideal para el músico. Malone Pipe™ Basado en los tudeles diseñados por el famoso artesano de instrumentos de metal Bob Malone, el modelo Malone Pipe está disponible en varias afinaciones, ofreciendo una respuesta rápida, una afinación muy precisa y una uniformidad tímbrica inigualable. Bob Malone, que originalmente era trompetista, abrió su taller artesano de instrumentos de metal en Los Angeles en 1983. Los trompetistas acudían a su tienda a que les personalizase sus instrumentos. Su diseño original de tudel ha recibido elogios desde todos los ámbitos, y todavía sigue siendo muy valorado entre los trompetistas. Desde que Bob se incorporó al equipo de Investigación y Desarrollo de Yamaha en 2001, su diseño Malone Pipe ha estado presente en buen número de modelos de la serie Xeno Artist y de la serie Custom. Aportando riqueza y brillo al timbre, además de una proyección excelente, el diseño Malone Pipe permite la máxima expresividad musical.
Valve casing, Piston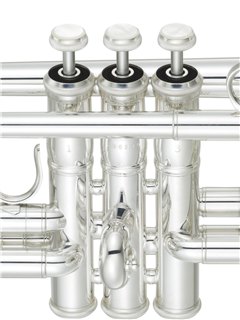 Thinner valvecasing and pistons, as well as the modified angle of the branch tube (Knuckle, marked blue in the photo), result in improved response and provide the performer with an ideal appropriate resistance.Modifications to the shapes of the piston button, top cap, and bottom cap, as well as production refinements, have made it possible to deliver a deeper tone while improving projection.
Main tuning slide and brace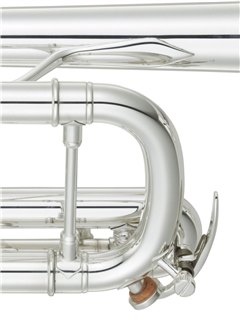 A conventional square crook is used (the Chicago model has a semi-square crook), while the main tuning brace has been extended and made heavier to achieve blowing resistance and vivid tonality that add up to brilliant presence in orchestral settings.
Llave de desagüe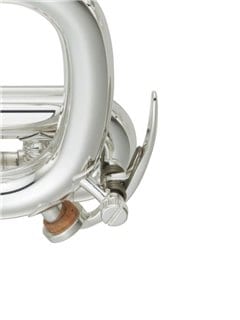 The weight distribution of the water key arm and bridle has been revised for more playing versatility and easier access to the high notes.
Brace barance and position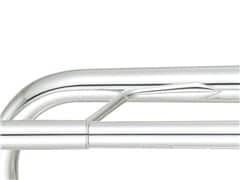 The shape and position of the bell braces has been modified to achieve better weight balance that results in speedier response and livelier tone with a solid tonal core.
1st valve slide inner pipe dimensions

Modified 1st valve slide inner pipe dimensions have done away with the characteristic 1st piston intonation instability that can occur with a C trumpet. Intonation adjustment and tonal flexibility have been substantially improved.
Tope de la bomba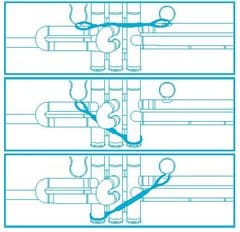 The slide stopper is used to prevent the trumpet slides from coming off the instrument. The slide stopper is made of silicone rubber, which does not discolor the instruments finish like regular rubber does. It can be left in place while playing. (Size: M, Length: 12 cm)
Case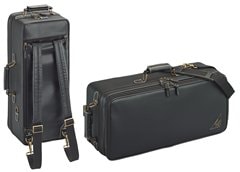 The TRC-800E double case features a backpack-style design for ease of transport.